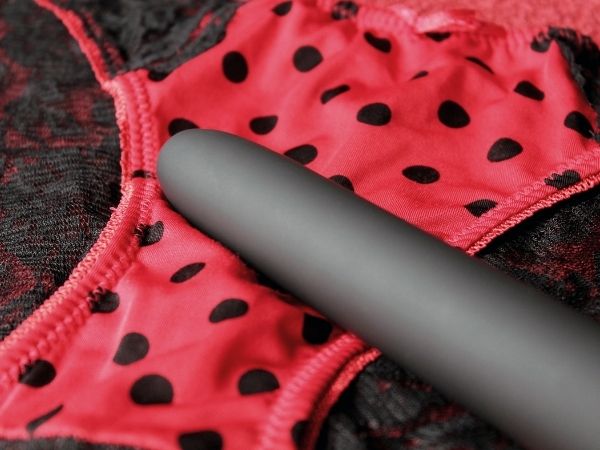 The Question
Hi Love Lounge,
My partner hates my vibrator and well, I love it and don't wanna to give it up. I also don't wanna give up my boyfriend as he's kind and funny and genuinely a good guy. I have limited mobility in my fingers and have always used vibrators, they hit the spot every time.
I'd never really mentioned it to my boyfriend, but he found one in the bedside drawer and was very annoyed about it. He says I shouldn't need it now that I've got him and stropped off in the huff.  He's usually pretty laid back, so I laughed thinking he was joking but no, deadly serious.
He isn't a talker and I'm struggling to understand the issue here or how to approach it with him. Can you help me out?
Thanks, Lisa
(Names have been changed for anonymity and we send a private answer prior to publishing here on the blog.)
Our Answer
Hi Lisa,
Thank you for getting in touch with us. First up, you are definitely not alone! 'My partner hates my vibrator' are words we hear regularly at the Love Lounge.
The main reason for this is that a partner can feel inadequate or jealous if you are able to orgasm with a toy easier than you can with them. They might think that you prefer the toy to them. The size of vibrator you use could also make them feel self-conscious about how they physically compare.
The first thing I would suggest is to try and talk to your partner about it. Explain why you like using a vibrator but reassure him that it is not a replacement for him. Explain that you use a vibrator because of your mobility issues and that it makes masturbation easier and more pleasurable.
The next step then could be to introduce sex toys when you are having sex. For example using your vibrator whilst your partner watches. The other option is to invite your partner to use it on you which may help him feel more involved and less threatened by it.
Couples Toys
You could also try a couples' toy. Here are a few examples of products that you could use together.
The Hot Octopuss Atom Cock Ring is very powerful cock ring and enhances pleasure for both partners.
The Satisfyer Double Joy is a great product that can be used whilst having sex. It can also be used for Solo Play with your partner controlling it using a Smart Phone App.
You could also buy him his own Sex Toy that he can either use on his own or you could use on him.
A good product to start with would be the Tenga Egg Masturbator. The super stretch material gives the user a different sensation when masturbating. There is a wide range of different textures available but this one has little hearts embossed on it.
Another product is the Fleshlight Stamina Unit which is a great Sex Toy for someone with a penis.
Stay Connected.
If you have a dating dilemma or question that relates to sex and disability get in touch. Follow us on twitter @ETUKUndressing and on Instagram @UndressingDisability. You can also join our Undressing Disability Hub for free. It's a friendly network of experts, researchers and people who have an interest in learning more about sex and disability. There's free resources to download too.
Next question