When it comes to sex, there are plenty of different lubes, toys and accessories on the market. However, nothing beats a good old-fashioned massage after a long day to get you in the mood. Even if it doesn't end in sex, it's a great way to connect with your partner while you unwind. It might even help to alleviate some aches and pains too.
Adding a massage oil to the mix can be a great way to take your back rubs to the next level. Although, it's worth noting that a lot of oils are not made to be used in the place of lubricant and are not the same thing. Similarly, a lot of products may not be condom or toy compatible so always be extra careful.
It's hard to know where to start as there are so many options out there from CBD to scented to self-heating oils. Fear not, we've done the hard work for you so you can sit back and prepare to relax
Here are our four favourite oils:
Grassroots Super Charge Massage Oil

The first thing you notice about the Grassroots massage oil is that it smells incredible. This is down to a combination of essential oils which include neroli, sweet almond oil and frankincense. The different essential oils are great for helping you to relax and unwind especially linalool which is a terpene commonly found in lavender.
It's also worth noting that the oil contains a whopping 1000mg of CBD. CBD is a cannabinoid which is thought to help with relaxation and also with muscle pain. But it won't make you high as it is not psychoactive so it's safe to use. This makes it a great choice for anyone who is looking for something that could help with muscle pain. CBD may also help with sexual arousal too as well as aiding sleep.
The pump is super easy to use as well so there are no awkward caps or screw tops to fiddle with. A little goes a long way with this one so you need very little top-up meaning it lasts for ages. One of the best parts of this oil is that the body feels incredibly hydrated after it sinks into the skin.
Great for: Value for money due to size and CBD amount
Avoid if: You struggle with strong scents or nut allergies due to almond oil
Price: £39.99
Website: https://grassrootsskin.com/product/super-charge-massage-oil-massage-oil-for-the-body-decolletage-neck-and-face/
Rating: 5/5
Templespa Drift Away Massage Oil

Sometimes we all need to feel a bit fancy, this is where Drift Away comes in. It's a luxurious oil which feels soft on the skin yet helps fingers to glide. The oil contains patchouli, lavender, geranium, frankincense, chamomile, myrrh, dill seed and orange, suspended in a lush base of sesame, jojoba and avocado oils, plus vitamin E.
The addition of patchouli may help to soothe skin conditions such as dermatitis, acne, or dry, cracked skin. Chamomile and geranium oils are thought to help with this. In massage oil, frankincense essential oils are often added to help soothe pain while helping inflammation.
Drift Away is not just a massage oil as it can also be used as a bath oil too so whatever way you prefer to use it – prepare to relax. A little goes a long way with this oil so you don't need much to make a difference. The scent isn't overpowering but it does linger on the skin which isn't a bad thing as it's quite a relaxing smell.
The bottle can feel a little heavy as its glass which means, if it falls, you will know about it. However, it's a great shout for anyone who might be concerned about the amount of plastic. It's also a screw top in comparison to a pump bottle so it might be trickier to navigate.
Great for: A good night in
Avoid if: You struggle with strong scents or nut allergies due to almond oil
Price: £26.00
Website: https://www.templespa.com/drift-away-bath-and-massage-oil
Rating: 4/5
Smilemakers Massage Oil: Wild Erotic Kneads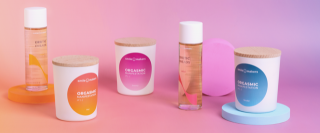 If heavier glass bottles are a bit tricker or like us, you worry about potentially dropping them then we have an alternative! The Smilemakers natural massage oils are not just a light, easy-to-open product but also a lighter, easy-to-use oil too. It spreads easily across the body without feeling sticky or tacky.
There are two in the collection for consideration called wild and slow. The two products may look similar but are very different in that slow is a lighter, floral scent whereas wild is a deeper, woodier and warming scent.
In trying both, slow was a clear favourite as it contained ylang-ylang, jojoba and sweet almond essential oils. The lighter scent isn't over-powering and helps to release stress from the body. If you prefer something a bit spicer then wild might be a better choice in that it combines black pepper, rosemary and lavender for a dark, woodier scent. We did find that the scent did fade a bit after a while but nothing a quick top-up couldn't fix. A little goes a long way with this reasonably priced vegan product.
Also, the packaging deserves a shout-out as it's well designed to open easily, leak less and be lighter to lift. We also didn't have to spend ages worrying about dropping it once our hands were a bit slippery!
Great for: Light and natural product
Avoid if: You struggle with strong scents or nut allergies due to almond oil
Price: £24.95 each
Website: https://smilemakerscollection.com/shop/wellness/wild-massage-oil/
Rating: 3.5/5
Absolute Aromas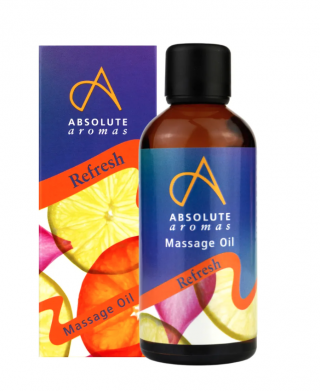 There is no essential oil product that you could want that Absolute Aromas doesn't sell. However, it's their range of massage oils that deserves attention as there is an entire range where you can find the oil that suits your needs the best. Not only that, but you can also purchase different size bottles which are perfect if you fear being stuck with a big bottle if you don't like the scent.
The Refresh massage oil is a good place to start and it's another duo product as it doubles up as a bath oil too. Three drops should do the trick and it's great for creating a relaxing evening. The uplifting scent has sweet orange, eucalyptus and spearmint in it along with lots of other essential oils which gave it a more natural smell that appear to last the longest out of any that we tried.
The formulas are super hydrating on the skin when used as either a massage or bath oil so it's great for helping with dry skin conditions. We found it soothing on irritated eczema which may be down to the addition of vitamin E.
It is also worth keeping an eye on their mobility massage oil which contains ingredients such as evening primrose oil and black spruce to help soothe tired joints or muscles.
Great for: Essential oils and long-lasting scent
Avoid if: You struggle with strong scents
Price: £9.50 +
Website: https://www.absolute-aromas.com/product-category/premade-massage-oils/
Rating: 4.5/5