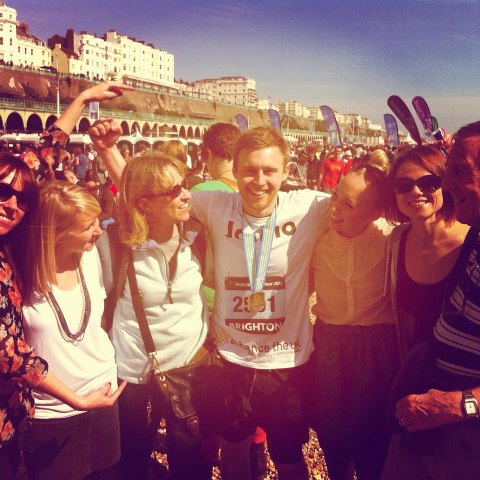 So 4 days later and I still have a huge grin on my face. I completed the 26.2 miles in a time of 4 hours and 49 minutes. I just wanted to do under 5 hours so as the bloke said as I ran through the finish line. "Smashed it"!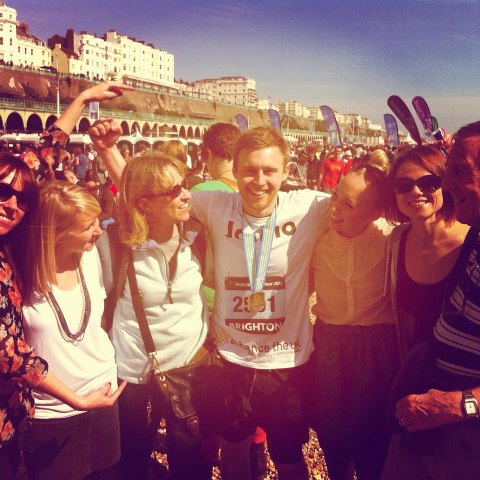 It is by far my biggest achievement to date and I am very proud. Well I say proud but when you see a 70 year old woman running past you the other way about 3 miles ahead it does take the shine off it!
The race started at Preston Park to the sound of Fat Boy Slim 'Right here right now' and 400 meters in who passes me on the road? England legend Matt Prior. I think he started the race, but cricket is my favourite sport and if I hadn't of started about 4 minutes before I would have stopped for a photo.
The first half of the race was good, I kept a good pace, stopped for a wee break twice (pissed in a bush) ((one woman did a Paula Radcliffe)) and reached the half way point in 2 hours 15 minutes where my family were waiting. A hug and a kiss later the realisation of 'I'm only half way' hit me. As promised from marathon veterans I had the dreaded wall to look forward to and sure enough 0n 17 miles BANG!
At that point it's a case of grit your teeth and keep thinking every step forward is a step closer to finishing. There was also the added pressure of the 23c sun which decided to come out on 17 miles, this meant every man and his dog was on the side of the road cheering but I didn't have any sun cream. To be honest that was the least of my worries.
The next goal was to reach 20 miles. I did have my name on my tshirt and it was awesome to hear everyone shouting 'Come on Jonno', but out of courtesy I put my thumb up to them to say thanks. This system was fine after 10 miles but after 19 miles raising the arm was using precious energy so I reverted to a head nod.
The final 6 miles were a bit of a blur, my top half was fit but the legs were getting stiff and we had to run out passed Shoreham power station. On the way they have small speed bumps because it's an industrial area, whilst these were merely 20cm high I though Mount Everist had been plonked on the course.
4 miles to go and you can smell victory, just keep running and think about the cold cider at the end. I actually got my rhythm back a bit and I remember 2 miles going quite quickly. Then it was a matter of the home stretch where everyone is cheering and willing you on. I remember looking the other way and a man with a donkey on his back was just passing, what an achievement!
I passed the Hilton where Juice 107.2 cheered me on, I passed the Pavillion hotel where Juice cheered me again and then I heard "Jonathan Cox" screaming in my ear, I turned round and I'd passed my sister and cousins, so made a dash to go and give them all a hug. This was with half a mile to go, then shouted at me to keep running, I could see the finish, the clock was ticking at 4:58:02 and I sprinted like an over weight Usain Bolt crossed the magic line and felt the best I have ever felt.
I then realised that because I didn't start the race til 9.10am I had to take 10minutes of the clock time. I held it together (just about) and heard "JONNO, WELL DONE MATE" and my Mum, Dad, Jen and Neil were standing there looking very proud behind the fence which was a moment I will stay with me for life.
My thoughts are with Sam Harper Brighouse and his family who tragically had a heart attack at mile 16. He was only 23 years old. He died living the dream.
Thank you so much to everyone who has donated, the total stands at £1,360 plus gift aid which will take us to about £1,600. You can still donate at www.justgiving.com/jonnocox
I have just signed up for 2014 as well where we will do it all again. It's actually like a payment protection plan, but with regards to weight (I won't go into anymore detail).