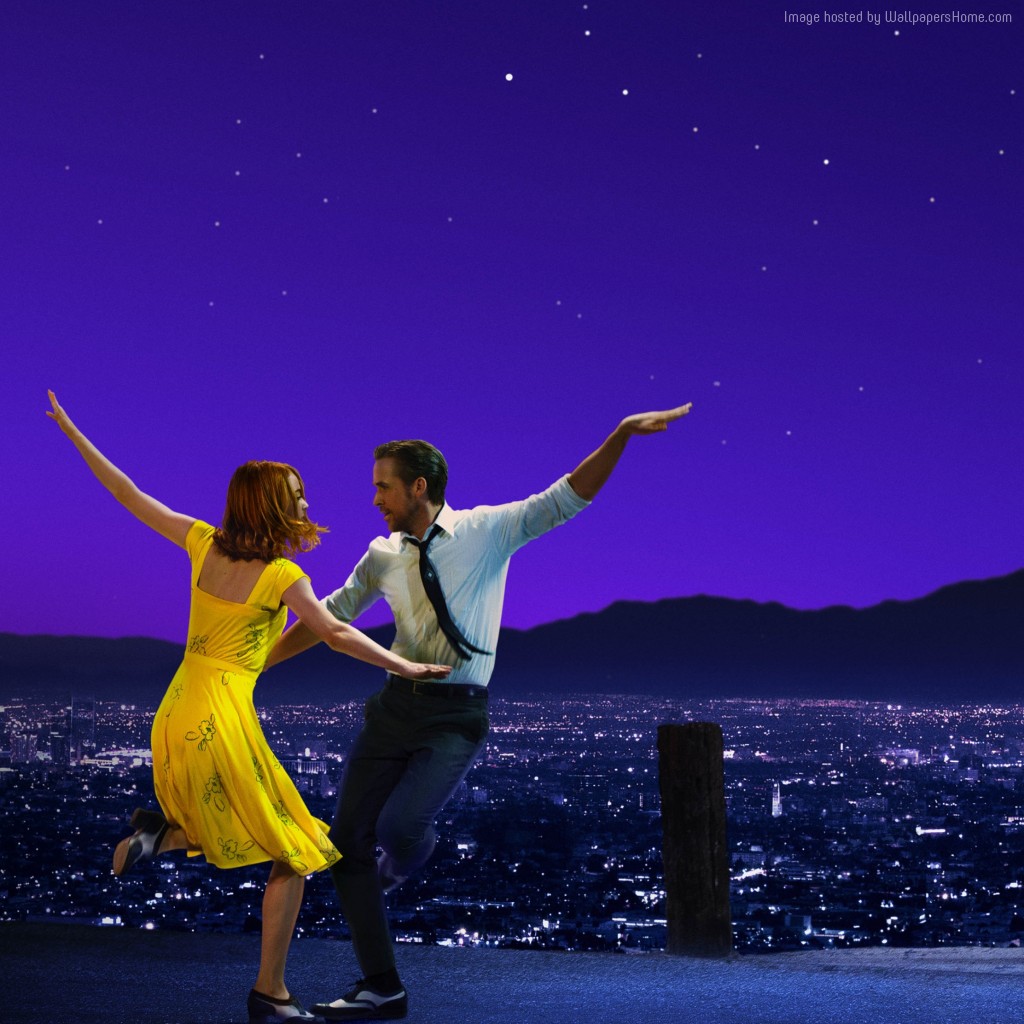 I think it's time to take a break from my usual chat about disability and have what I have christened one of my HRRs, that is a Holly's Random Review. This is when I use my blog to give my thoughts on a show, film or other piece of entertainment that I've seen. I do this normally when it's been a big treat or something I have particularly enjoyed or just when I haven't found a news story that had piqued my interest. So I have decided to give my opinion on the film I've just seen: La La Land
La La Land (PG-13)
This modern take on the classic 1940s Hollywood musicals follows the love story between frustrated jazz musician Seb (Ryan Gosling) and waitress and wannabee actress Mia (Emma Stone) as they struggle to build and maintain their love affair while at the same time pursuing their individual careers in tinsel town. The movie has been showered with acclaim by critics who seem enraptured by director Damien Chazelle's attempt to take the genre in new directions for the modern era but personally I found the work problematic. While the film starts of on a sunny, upbeat note with a number in which drivers stuck in traffic on the Los Angeles highway jump out of their cars to sing and dance, followed closely by another featuring our heroine getting ready for a night on the town with her girlfriends. The film quickly sags into a tone more fitting to an semi-serious examination of modern relationships with large periods of realistic dialogue and acting during which it is easy to forget you are watching a musical at all. I don't have anything against realistic drama, though it is not a genre I particularly enjoy, nor am I against heightened realities on film as long as the hyped-up style is constant throughout the piece. But the two married together is very jarring for a watcher of modern musicals, who perhaps needs the cartoon burlesque factor of Chicago or Hairspray or the overblown melodrama of the screen versions of Phantom of the Opera or Les Miserables to feel comfortable with characters bursting into song at any moment. It is almost too comical to have our leads exchanging natural dialogue about their lives and dreams one minute and then floating up to dance on the ceiling the next.
Of course Chazelle is trying to reference something great here, looking back to the great 'put on a show' shows of MGM such as Singin' in the Rain or A Star Is Born. But while audiences of the time were happy to believe the puffed dream of Hollywood glamour, viewers in the 21st century are perhaps a little more savvy as to what goes on behind the silver screen, and trying to address this more sophisticated view on the world Chazelle perhaps loses something. Seb and Mia are very modern characters with all the flaws, hang-ups and ego drives of modern performers trying to be a success, they behave and are played like a hundred other romantic leads in other comedies and dramas. The performances by Gosling and Stone are subtle and not overblown so when they do suddenly burst into song out of the blue its seems frankly bizarre. Maybe if everything had been ramped up to ten with violent declarations of love and hysterical sobbing the addition of songs wouldn't seem so out of place. But La La Land wants to have its cake and eat it, being both naturalistic for long stretches and then diving half-heartedly into fantasy when it remembers it isn't simply a drama. The setting is very much a Hollywood version of Hollywood; back lots and palm trees, where the seedier side of struggle and failure is only hinted at, a Hollywood that perhaps did exist once upon a time but is unbelievable  in 2017.
The overall atmosphere of La La Land is that of a unenthusiastic smugness. The film gives the impression that its doing something deep and marvellous while in fact no-one seems to be trying that hard. The songs are melodic and hummable but easily forgettable once the credits roll which is bizarre as Gosling's character is meant to have a passion for jazz. Likewise, Gosling himself does a passable job in the role. He can hold a tune but that's no challenge as the melodies are so marshmallow light that they can be spoke-sung without much effort, although his whole demeanour gives of the air of someone who isn't really comfortable as a song and dance man. Whenever he performs, you are given the distinct impression that he finds it all rather embarrassing and would be much happier if this was just a straight drama. As for Stone, the word to describe her, and so much else in this film is 'nice'.  She looks very pretty crying in the close-ups and her voice is sugary and a lot better than some past actors and actresses roped into the rebirth of the big hit musical (see Richard Gere in Chicago). But what the film highlights is that these days a big name doesn't guarantee the skills needed to carry off a musical performance and for those who have seen real singers and dancers who have to come up to scratch night after night on stage, the flaws show. This is especially the case with much of the dancing which seems lacklustre and walked-through, making you realise just how much effort and skill is put in to something like say Strictly. Because Chazelle has borrowed so much from the greats of the past; Astaire, Kelly, every number leaves you with the reminder that it's all been done many years before and so much better.
What makes La La Land differ from those golden movies of the past is that it lacks heart. I don't have a problem with it creating a highly false edifice so long as there are some true emotions behind it. The problem is the story of Mia and Seb's very modern romance doesn't seem to fit within the reality the film tries to create.
2/5 Overhyped and boring. Nice background film for grandmas.