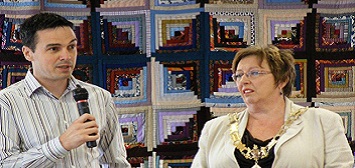 Hello blog readers. I am detracting from my usual blog spot this week, I wanted to share my day with you. Tuesday 18th September was pretty eventful for me and iCAN Experiences. You may recall me mentioning something about Reading Association for the Blind around 6 weeks ago.
Well after some postponing and rescheduling, I had been lined up to visit Reading Association for the Blind as a guest speaker on their open day. I set out on my journey at 08:45 catching a Taxi to the train station. The taxi was typically 5 minutes late, but we made it in good time for the train! At my change over point, I was informed that my connecting train had been delayed by 10 mins. "stay cool Rodney" I thought to myself. Thankfully the train was only 10 minutes late and I had planned in my usual 30 minutes of slack into a public transport journey, so no worries….much!
I arrived at Reading Association for the Blind at 10:30 and the Mayor of Reading along with Rob Wilson MP were due to turn up any minute in order to cut the tape on a brand spanking new Mini-
bus! I was given a cup of tea, made comfortable in an office whilst people hustled and bustled around me! I met a number of fantastic people from the Association, those that run it and members too. When I wasn't talking to someone, I was running through my head what I was going to say as a guest speaker! Nervous? Me? Quite!
Then the ribbon on the bus was cut, pictures taken and I was guided into the main room where The Mayor of Reading made a short speech, then Rob Wilson MP. Then it was my turn, "Paul Nicol, founder of
iCAN Experiences and our guest speaker today". I was handed the microphone and it was over to me! "Um, where do I start?" I asked "Stay cool Rodney!" It took me maybe 4-5 seconds to
actually engage brain and mouth at the same time and I began to talk! Of course, I had a rough idea of what I was going to say, but I had no notes, no way to read notes, so it was pretty much ad-lib!
On the whole, I kep the speech relatively quick, I had the Mayor of Reading at my side, so didn't want to make her yawn, so I rattled through what I had to say. As I was nearing the end of my little talk, I completely lost my train of thought, not sure if it was excitement at coming to the end or nerves, but I stood there for 5 seconds looking blankly trying to recall what I was going to say! Then I stumbled for a few more seconds as I talked myself towards the end of my speech. I finished using the line "If life deals you Lemons, make Lemonade!"
It was over, the crowd chuckled and clapped as did the Mayor! Success! I then took the opportunity to talk to the Mayor before she was ushered off to talk to someone else. I then took the opportunity to talk to some of the members of Reading Association for the Blind. After about 30 mins of chatting and hob knobbing, I was on my way. It was 12:15 and I had a train to catch at 12:30 from Reading Station.
I was on a tight schedule to get to BBC Broadcasting house by 13:30! I got to Paddington station at 13:10 and was greeted by a member of staff with one of those beeping buggies that I personally hate, although the more I use them, the better they become! "Put your foot down drive, I've got to be at the BBC in 20 minutes!" I proffered. Give the man his due, he beeped the horn and I am sure we were going at top speed for the beeping buggy.
I hopped into a black cab, told the cabby where I needed to go along with the subtle hint "I need to be there by 13:30", the driver proceeded to tell me that earlier that day it had taken 35 minutes! I had 15! I called the Beeb and told them I was on my way.
The driver got me there at around 13:32, fair play to black cab drivers, I shook the man's hand and hopped out. I was greeted by a nice chap called James who got me signed in and it was his sole job to help people with disabilities within the BBC, I was impressed! The purpose of my visit was to appear on the BBC Radio 4 In Touch program which is a program covering topics and issues for visually impaired people.
I arrived and met Lee Kumutat, the producer of the show "How are you Paul? Feeling harassed?" "ever so slightly" was my response. I could breathe a sigh of relief that I had made it. We were straight into the studio and I was introduced to the other guests on the show, Steph Cutler and Wai-Man Leung. Steph is a personal development and training consultant who is visually impaired with a business called "Making Lemonade", guess where I got my closing line for my Reading Association for the Blind speech. Wai-Man works for Action for Blind People and someone that had helped me in the early days of my Business Planning.
We recorded the show which would air in the evening at 20:40 and after taking a picture or 2, I was off in a Taxi to return home. I arrived home at just after 17:00 having not eaten anything but a Snickers. I was starving and pleased with the day's work!
Please do share this with your friends, family and whomever else you think may be interested. Remember to follow us on Twitter @icanexperiences and become a fan on facebook at www.facebook.com/icanexperiences.