A postdoctoral research fellow Julia Bahner originates from Malmö and undertook her PhD at Gotheburg Uni, Sweden. Julia worked in Leeds for two years at the Centre for Disabilities before returning to her homeland, and we were delighted to be part of her research project. Julia has recently published a book about her work.
For those reading who are yet to meet you, could you please tell us a little bit about yourself and your background?
I'm a social worker by training but didn't end up working a lot in the field before I turned back to academia to do a master's degree and eventually a PhD. Then I was stuck! But I've always been interested in and adamant that my research be relevant and useful to practice. Therefore I've always stayed in touch with disability service providers and disability rights organisations, to share and discuss my findings along the way, and collaborate in some ways as well.
You write about sexuality and disability, what sparked your interest in these topics?
During my social work education I worked extra as a personal assistant for different people through the municipality. With one of the assistance users sexual support issues came up, or rather, he out right asked me to help him in different ways!
I had previously done some work in sex education and had always been interested in sexual health issues, so I wasn't shocked as such, but nonetheless was quite clueless as to what was the right thing to do. I had received no formal training for the job and didn't meet any colleagues apart from hi and bye as we changed shifts. So when I later pondered what to write one of my master's essays on and couldn't find much research done in this area, I decided to dig into it!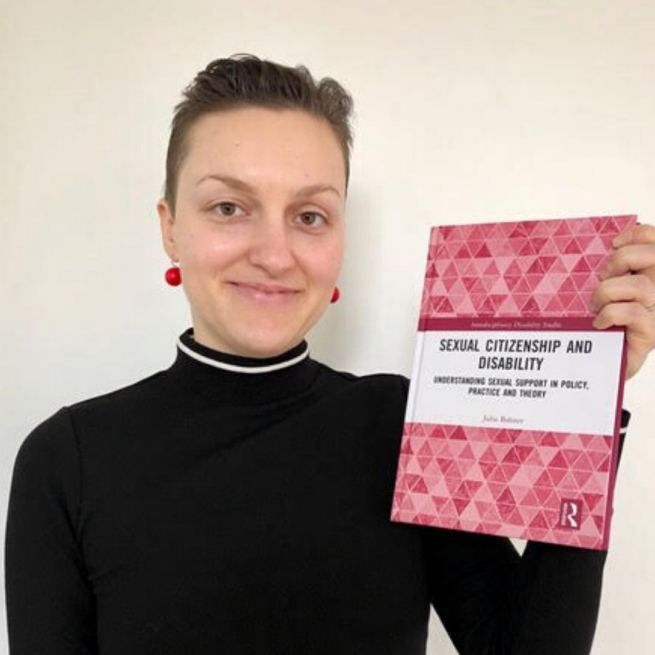 We were so thrilled to be a part of your project! What are some of the distinctions between what we at Enhance the UK do, and the projects that are going on elsewhere in the world?
I'm so happy to have had you on board! It's been really exciting to see the distinctions between the different countries, both in terms of policies but also disability rights movements.
I would say that the UK has the most diverse array of disability and sexuality-focused organisations, and especially with regards to those that are led by disabled people, such as yourselves and Sisters of Frida. The long legacy of the UK disabled people's movement and the social model is really visible here.
In contrast, the Netherlands doesn't have at all as strong disability rights movement, and very few spaces that focus on sexuality from a user-led perspective. Instead, disability issues have been dealt with largely within health care and rehabilitation, and there is a group of passionate (non-disabled) sexologists working in the field.
There also exists special 'sex care' services as well as sex work organisations among which some focus on services to disabled people. But recently a new organisation called HEPPIE Seks formed, started by a young disabled man and two young women. Their planned work looks really interesting! As for Australia, and New South Wales state specifically, I was really impressed by the state's disability policy which includes sexual rights as one of the general principles. I haven't seen anything like it anywhere else.
There is also a strong collaboration between a number of key organisations in the field, namely Touching Base, Northcott, Family Planning NSW and People with Disability Australia (PWDA).
Touching Base is the driving force and they have produced great resources and offer training. The organisation is led by disabled people and sex workers. Northcott is a service provider and they have developed a policy and offer various sex education and support services.

What are the top three things you've learnt through your work on intimacy and disability?
Sexual support policy and practice should always be developed in collaboration with disability rights organisations and/or disabled people. I like to start from an Independent Living-perspective, going through disability rights and sexual rights.
Collaboration between key stakeholders is really important for successful advocacy aiming for changes in policy and practice (NSW is the best practice example).
Although arranging sexual support in practice can be really difficult for some people, for example due to multiple impairments, it's never impossible to achieve! Conversations need to be started on difficult things for them to be resolved in a way that suits both service users and service providers – silence doesn't solve anything! Often, more can be done than people think without breaking any laws or regulations – but knowledge and information is lacking.
When it comes to sex and disability, what's the main issue that needs to be solved, in your opinion?
Acknowledgment and implementation of the rights that are already in place. Namely the Convention on the Rights of Persons with Disabilities and the World Health Organization's standards (see this Sex and Reproductive Health article and this publication on Sexual Health, Human Rights and The Law).

What's been the highlight of your career so far, and what's next?
Getting the chance to work in Leeds and the Centre for Disability Studies – such a renowned place! And all the travels I got to make during the project, visiting the Netherlands, Australia and Japan, among other places, and getting to know amazing folks from the disability and sexual rights space. I'm just about to start a new project called Sexuality – An Access Issue at the School of Social Work, Lund University, back home in Sweden. It hasn't been easy living without my partner, and I've missed the Swedish culture and welfare system as well – no offence! 😉

If people want to find out more about the work you do, and also the resources available to them in terms of sex and disability, where would you signpost them to?
For those on Twitter I often post about my work and things I'm interested in: @JuliaBahner and my book 'Sexual Citizenship and Disability: Understanding Sexual Support in Policy, Practice and Theory' is available to purchase as an Ebook and Hardback copy.
Enhance the UK is the best website on sex and disability that I've encountered so far, so I always recommend it to people!
For policies and guidance on arranging sexual support, as well as cool videos and blogs, I would recommend checking out the Open University Sexuality Alliance's resources.
Women with Disabilities Australia (WWDA) have developed some great resources as well, a position statement on sexual and reproductive rights and a human rights toolkit. See also WWDA Youth Network and their resources on the same topics aimed at young people!
Thanks to Julia for this interview. If you found it useful please share the link with your network. Keep up to date with all our latest interviews, opinions and insights by following our Undressing Disability campaign on twitter @ETUKUndressing and Instagram @UndressingDisability. #UndressingDisability