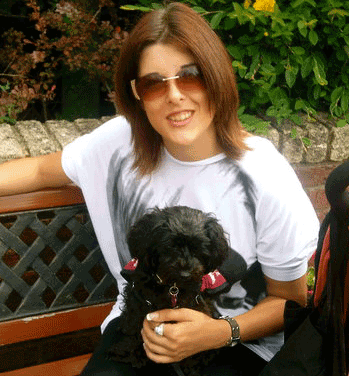 I hardly ever write about my own experiences around being Deaf mainly because having read so many fantastic blogs on the topic I find that I have little to add to the subject which hasn't already been written about before. But today's different for me as I want to share an experience I had this week and I hope that by writing this blog it will help me reflect upon how I actually feel about it. You see, I simply don't know how to feel. One moment I am angry, then I feel pity towards the other person involved, then I feel a sense of disappointment swiftly followed by thinking that I simply shouldn't allow myself to feel anything about it at all. But this is easier said than done.
What could happen which could cause so much turmoil I hear you ask? Really, it wasn't anything major, just a chance conversation with a woman outside a shop in London. I was rushing around trying to buy my Secret Santa, stressed because I had forgotten it and needed it before I arrived at work when I practically bumped into a lady. She muttered something which I simply didn't catch so I explained that I hadn't heard what she had said and that I am Deaf. Straight away she put her arms out to embrace me, rubbing my arms softly and clearly said. "Oh, you must have been bad in a past life, don't worry if you are good in this life, God will heal you!"
Wow … I would like to say that I said something to register my discomfort or disagreement with her but I didn't. I simply stood in shock before walking away. I thought about this conversation and my reaction the whole way to work and am still pondering it now. You see, the comment was not made from a bad place; the lady was clearly trying to be kind. And yet I find it one of the most offensive things that has ever been said to me.
Whilst reflecting on my response to this in bed that evening, a memory popped into my head. I must have been about 9 and was reading my children's bible. I read about the story about Jesus putting mud on a blind man's eyes and telling him to go to Siloam and wash and the man was healed and was able to see. I vividly remember thinking 'why can't I be healed?' You need to bear in mind that I was at a time in my life where I was unable to see any of the positives of being deaf and had not formed a positive self-image yet. I used to think that if I had a genie and 3 wishes, my first would be to be able to hear. As I grew up, I realised that my deafness has shaped my experiences and has been integral in making me who I am. It is central to my identity and something which I would never want to change or deny as by doing that, I believe that I would be changing my essence.
During Religious Education classes during my teens I struggled with the idea of healing. I couldn't understand why Jesus would want to heal people and believed that this was implying that people with disabilities were not perfect as they are. Now I am older I can see that there can be a difference between healing and curing and that this is not an area which is black or white. I can also understand why some people themselves may want to be healed or want their loved ones to be healed.
The idea that I must have been bad in a past life implies that my deafness is a punishment for a sin which personally, I find abhorrent. I googled this before writing my blog and from what I can see the bible appears to be inconsistent on this (although I am the first to acknowledge that I don't have any deep understanding of the bible as I am not religious). I believe myself that like all religious books there is an element of being open to interpretation and on the whole this is a powerful and positive thing. I have focused on Christianity during this blog simply because this is what I grew up with.
I suppose the conclusion I can come to is that religion is a deeply personal belief and that everyone is entitled to their own beliefs. Who am I to tell the lady her belief's towards what she sees as my disability is wrong? On the other hand who is she to make assumptions about me? Writing this blog has helped to alleviate my anger. I believe her response towards me was made from simple ignorance. She was unaware of how insensitive she was being. Wouldn't the world be a better place if we all had a bit more awareness? Which in itself is the reason that I am so passionate about the work we do at Enhance the UK?