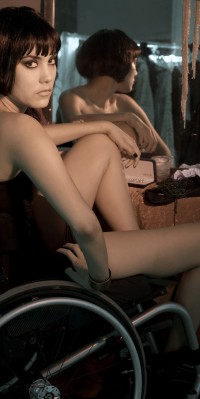 This question. This is the question I get asked most in public by friends, friends of friends and even complete strangers. I hear this almost as much as I hear variations of the question "What happened to you?". This is not an uncommon experience for those who are living with some form of visible physical disability. I cannot claim to speak for the experience of all people with a physical disability when it comes to issues of sex and sexuality. I am a 26-year-old straight male who just so happens to have been born with Spina Bifida which affects the sensation and some function from the waist down. It is this sometimes beastly yet beautiful reality of disability which shapes life in general but especially that in relation to who I am as a perfectly normal sexual human being.
So, in short the answer is yes, I can have sex. As many people will say, people with disabilities have the same wants, needs and desires as anyone else in the world. spina Bifida in itself as a condition makes intimate relationships and sex an interesting endeavor because (at least for me) interest in sexual knowledge started quite early. Not because of some weird unconventional way I was raised or that my family was particularly open about sexuality but because of my brain. Sometimes children with spina bifida do go start to go through puberty a little earlier than their able-bodied peers. Personally, I can remember being about 9 years old when I started to notice certain body changes. When I got to around the age of 10 my mother started to give me a little more freedom in my independence and allowed me to start going farther in my neighborhood that just right around my street in the afternoons after school. We had a public library really close to were we lived at the time and I remember going there for two reasons 1) My mother liked to encourage reading before bed at night, so I would go look for books to bring home; though I rarely found much of anything that I liked. 2) I used to try to be "sneaky" and when no one was looking and find old copies of books like the "joy of Sex" just to read any information I could. I wanted to know everything, still do and besides..I was 10 and on the threshold of adolescence. I am not nor was I foolin' anyone if they saw the cover of that kind of book at a public library in the hands of a kid my age at the time. I was lookin' to see if I could find naked pictures along with all this information. I found them, only, they were illustrated pictures in this particular copy of the Joy of Sex. "Why do these people look so hairy?" I thought.
In all my searching through this library and others like it until the age of about 14 I did not find anything which documented the real experiences of someone with who had spina bifida beyond what mentioned there may be decreased function of the genitals in males with my type of the condition (myelomeningocele) and that the chances of being able to have a child naturally are slim to nil. More on the subject of having children in a later post, I promise. These medical facts I found, while were appreciated and very important, they did not answer a few questions I had at such a young age. If I can't really "feel" anything how will I ever be able to enjoy sex? If I have problems in sexual function then how will I ever make someone else happy when it comes to having sex? Am I somehow less of a person if I am unable to have sex and unable to define it as everyone else seems to?.
Masturbation- It's a touchy subject, but it is key when discussing sexual pleasure in relation to sensation or lack there of. Many think that masturbation just involves diddling with the nether regions until climax is reached and that's it. It may be more involved than that for someone like myself and it may not involve any stimulation of the genitals at all. The human body is a funny thing, it seems to me that in terms of sensation, whenever the "mood" strikes the areas in which can be felt become much more sensitive or even heightened. I enjoyed this fact when I realized it because it then allowed me to figure out what I liked. It made me feel a lot more confident within myself and the fact that sexual experiences could be enjoyed and that I could later discuss those things with any future partners I may have. Naturally trying to figure out if I could function sexually as a man was important also. I found that when an erection could be achieved that it either may not have lasted long without constant stimulation and that also once it was to the point where it was as erect that it was going to go that pressure around it became pleasurable even though there is no actual sensation in that around. Weird, right? Beautiful nonetheless, more of a confidence booster. Other times, it just may not work at all, but I think most men at some point can relate to experiences of not rising to the occasion. Unless you pop one of those genius little blue pills but at $13 (CDN) per pill, just to have a wank, well I'd rather just have a pint or two. The bottom line is, having your own alone time as you grow to get to know your body is essential to both you and your future partners. It can build confidence and communication.
Defining ourselves as sexual human beings for anyone of any age or any ability and what that looks like and feels like to ourselves and to others is sometimes one of the most daunting of tasks. Though, that is just it. We define it and we experience it for ourselves. For me, I am a straight 26-year-old male whom took it upon himself to learn what worked for him and I am still learning. I won't stop learning. I have been fortunate enough to have a few intimate relationships in my young age which has been wrought with other challenges that I have face or will likely have to face as a person with waist down paralysis, spina bifida. More on that later. Until next time, Just keep rollin' on.