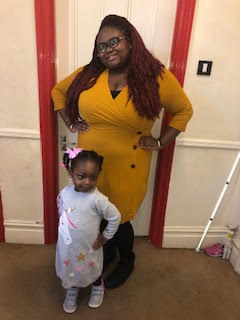 I've always heard that being a parent is the hardest job in the world. But I also heard that it is the most rewarding.
Now that I am a parent myself I can honestly say that what I had heard was so true.
My name is Joy and I am a single, sexy, mother of one. I also happen to have a severe visual impairment which basically means I am totally blind in my right eye and have a very small amount of vision in my left eye, with the help of sone very thick and flowery  glasses.
Having a visual Impairment also means I can't see hot guys walking past me on the street which is really annoying but hey, I guess there are worse things going on in the world!
When I was first asked to do a blog about parenting I didn't want it to feel like a lesson on how to be a "good parent" because let's face it only our children can make that decision when they grow up.
So what I want to do is simply share my journey and hopefully reduce negative stereotypes of parents with disabilities and give an insight into the difficulties most parents face, but also give some kind of reassurance to other blind and partially sighted woman who may not have experienced motherhood yet.
I'm going to talk about the aspects of parenthood that have had the biggest impact on me and I'm going to start from the very beginning. Everything from My pregnancy and labour, the fear of becoming a mother, the support I have had, travelling with a baby and a cane, keeping up with a toddler, and my thoughts on the future.
Currently, my daughter Janelle is 3 years old and she loves singing, dancing, Peppa Pig, writing on my walls, stealing my lipsticks and pretending to be a police officer!
She is the single most important thing in my life and despite all of her tantrums and sulking when I don't give her chocolate, she is the only light in my life.